Barriers to Entry: The term "barriers to entry" in economics and business refers to variables that deter or make it difficult for newcomers to enter a market or industry sector. As a result, competition is limited. These include
expensive startup costs
legal restrictions
other obstacles that make it difficult for new rivals to enter a market.
Barriers to Exit: Something that prevents or hinders a business from leaving an industry is known as an "exit barrier".
Common exit barrier factors are,
High exit expenses, like asset write-offs and closing charges
highly specialized assets that may be challenging to sell or relocate
The loss of client trust is another major exit barrier.
Typical Barriers to Entry and Exit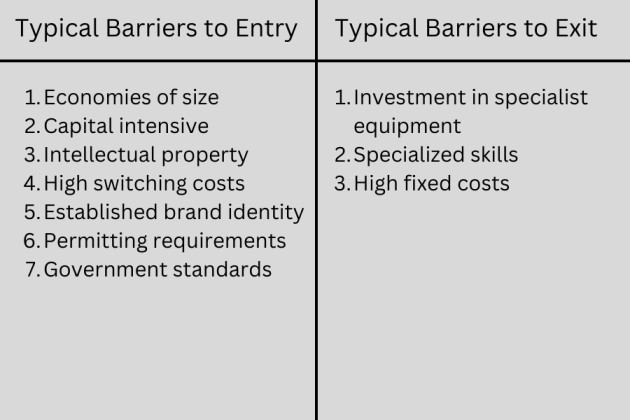 Related Article
Top 7 Types of Non-Tariff Barriers
Short run Equilibrium in Monopoly
Monopolistic Competition and Economic Efficiency
Perfect Competition: Definition, Graphs, short run, long run
Monopolistic Competition Assumptions [Updated]